US Mulls 'Nuclear Option' as China Threatens Hong Kong Autonomy with Proposed Nat'l Security Law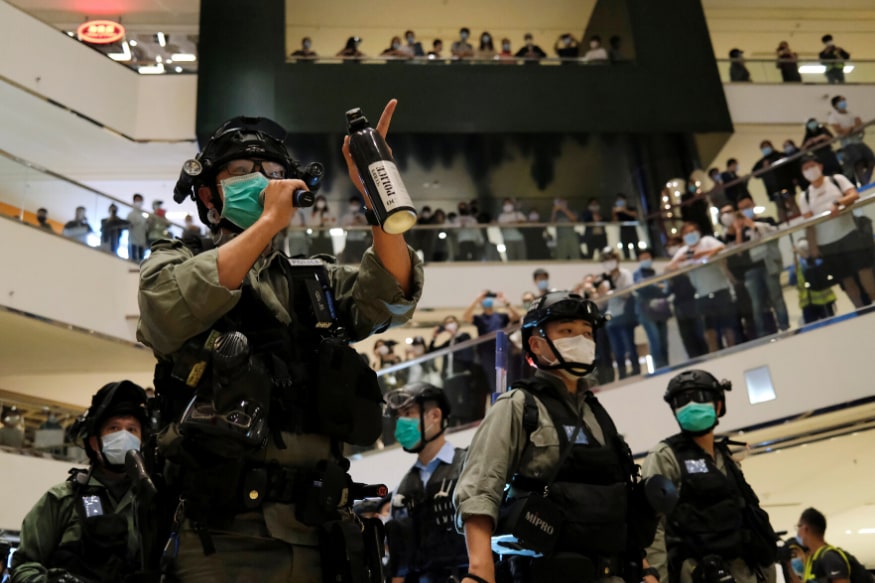 A riot policeman wearing face mask to avoid the spread of the coronavirus disease (COVID-19) holds a pepper spray as he tries to disperse anti-government protesters as they stage a rally at a shopping mall, in Hong Kong. (Reuters)
US lawmakers are pressing for tough action over Hong Kong, but even some supporters of the territory's democracy movement ask if the "nuclear option" would be effective.
AFP Washington
Last Updated: May 22, 2020, 11:42 PM IST
The United States on Friday stepped up threats to strip Hong Kong of special trading privileges as it led Western nations in anger over China's brazen assault on the territory's autonomy.
US lawmakers are pressing for tough action over Hong Kong, which has become the latest front in soaring tensions between Washington and Beijing, but even some supporters of the territory's democracy movement ask if the "nuclear option" would be effective.
Secretary of State Mike Pompeo said that a proposed national security law, submitted Friday to China's rubber-stamp legislature, would be a "death knell for the high degree of autonomy Beijing promised for Hong Kong."
The new law would enforce punishment for "subversion" and other perceived offenses in the city, which was swept by months of massive and occasionally violent pro-democracy protests last year.
In a show of support for demonstrators, the US Congress last year overwhelmingly approved a law that would end Hong Kong's preferential trade access to the world's largest economy if it is no longer certified as enjoying autonomy — which Beijing promised before regaining control of the then British colony in 1997.
Pompeo said that Beijing's latest moves would "inevitably" influence the State Department's decision.
"The United States strongly urges Beijing to reconsider its disastrous proposal, abide by its international obligations, and respect Hong Kong's high degree of autonomy, democratic institutions and civil liberties, which are key to preserving its special status under US law," Pompeo said in a statement.
'A Nuclear Option'
Pompeo had delayed the certification decision, citing the just-started session of the National People's Congress, and lawmakers had earlier anticipated that President Donald Trump's administration would shy away from ending Hong Kong's trading status.
Trump had only reluctantly signed the Hong Kong act, which was strongly opposed by Beijing, as he was negotiating a deal to end a trade war with China.
Dennis Kwok, a pro-democracy lawmaker in Hong Kong, told a US-based audience on Friday that the territory's opposition forces appreciated US efforts and urged continued vigilance, voicing fear for police crackdowns in the coming days.
He nevertheless cautioned of the risks of the United States revoking the city's trading status, while acknowledging that many in Hong Kong were angry and would back the move.
"This is almost like a nuclear option, which once you use it, everyone will get hurt, and it will be very hard to build Hong Kong back up again," Kwok told the conservative Heritage Foundation by videoconference.
Kwok said the most effective leverage would be to stress how investors would be spooked by the narrowing of autonomy in Hong Kong, one of the world's pre-eminent financial capitals.
"If China is so stupid as to believe that they can do away with Hong Kong and they don't need an international financial center, then of course there's nothing which one could do to dissuade them to do otherwise," he said.
Senior Trump economic advisor Kevin Hassett made a similar case to reporters at the White House, saying that "disdain for the rule of law" would be "very, very bad for the Chinese economy."
'Most Dangerous Moment'
Hong Kong is only one flashpoint between the United States and China, the world's top two economies.
Trump and Pompeo have accused Beijing of being responsible for the coronavirus pandemic by not acting more quickly — an argument that critics say is meant to deflect from Trump's own handling of the crisis.
Richard Haass, president of the Council on Foreign Relations, warned that the Pacific powers were at "their most dangerous moment" since they normalized relations four decades ago.
"There is a growing list of disagreements (Hong Kong being but the most recent) but no strategic rationale for the relationship or plan to limit friction. Both countries stand to lose," Haass wrote on Twitter.
Congress, with broad bipartisan support, is looking to ratchet up the pressure.
Following China's announcement on the law, two senators, Republican Pat Toomey and Democrat Chris Van Hollen, proposed a law that would impose sanctions on anyone involved in curtailing Hong Kong's autonomy, including banks.
Senator Marco Rubio, a prominent Trump ally, said that Hong Kong showed that China will "lie to get any deal."
Martin Lee, considered the grandfather of Hong Kong's democracy movement, made a similar point to the Heritage Foundation, warning that Beijing could renege on Trump's cherished trade agreement.
"If Beijing can with impunity rip (up) an international agreement registered with the United Nations at will without being held accountable for it, Beijing would thereby be encouraged to break more international agreements with other countries," Lee said.
'More to Lose Than Gain, You Can't Afford Shocks': Beijing Warns India to Back Off from US-China War
Representative image. (AP)
In an article in The Global Times, China said that there have been some voices calling for the Indian government to join the new Cold War and exploit its position for more gains.
Last Updated: June 1, 2020, 12:17 AM IST
New Delhi: Warning India to be "careful", China on Sunday asked New Delhi not to get involved in the Washington-Beijing rivalry even as some predict that the world's two largest economies are "about to enter a new Cold War".
In an article in The Global Times, China said that there have been some voices calling for the Indian government to join the new Cold War and exploit its position for more gains.
"Such irrational voices are nothing but misleading, which should not represent the mainstream voices and sway the Indian government's stance. Fundamentally speaking, India has little to gain from engaging in a US-China conflict over any topic, with more to lose than gain, which is why the Modi government needs to face the new geopolitical development objectively and rationally," Beijing said.
Several areas along the Line of Actual Control or LAC in Ladakh and North Sikkim have seen major military build-up by both the Indian and Chinese armies, in a clear signal of escalating tension and hardening of positions by the two sides even two weeks after they were engaged in two separate face-offs.
India has said the Chinese military was hindering normal patrolling by its troops along the LAC in Ladakh and Sikkim, and strongly refuted Beijing's contention that the escalating tension between the two armies was triggered by trespassing of Indian forces across the Chinese side.
Us President Donald Trump had also offered to "mediate or arbitrate" the raging border dispute between the two most populous countries, saying he was "ready, willing and able" to ease the tensions.
China asked India to be careful not to include the US factor in its handling of any problem in its relations with China, "otherwise it will only complicate the issue". "The offer of US mediation is unnecessary and the last thing both sides could use. China and India have the ability to resolve their problems, and there is no need for any third-party intervention," it said.
Threatening New Delhi of snapping economic ties, Beijing further said, "If in a new Cold War, India leans toward the US or becomes a US pawn attacking China, the economic and trade ties between the two Asian neighbors will suffer a devastating blow. And it would be too much for the Indian economy to take such a hit at the current stage."
Citing the increasing coronavirus cases and the recession forecast, China stated that the "crippling Indian economy cannot afford any more shocks". It "advised" New Delhi to "always view the India-China relations with rational minds instead of being lured by domestic nationalist sentiment".

Amid Violent Protests, Trump Says US Govt Will Designate Antifa as Terrorist Organisation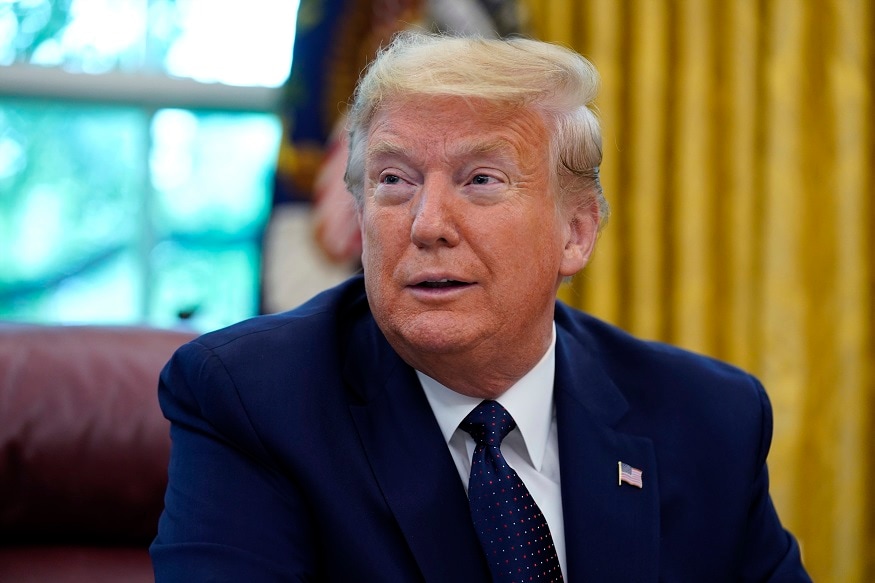 File photo of US President Donald Trump.
Donald Trump's tweet on Sunday is not the first time the president has described the anti-fascist group Antifa as a terrorist organisation. Other conservative politicians have made similar statements.
Last Updated: June 1, 2020, 12:14 AM IST
US President Donald Trump said on Sunday his government will designate anti-fascist group Antifa as a terrorist organisation.
The announcement, made by Trump on Twitter, comes amid violent nationwide protests about police brutality following the death of a black man seen on video gasping for breath as a white Minneapolis police officer knelt on his neck.
US Attorney General William Barr said on Saturday "outside radicals and agitators" have hijacked protests in US cities over the killing. "Groups of outside radicals and agitators are exploiting the situation to pursue their own separate and violent agenda," Barr said in an on-camera statement.
It is not clear how many, if any, of the protesters participating in demonstrations across the country are from Antifa. John Harrington, the head of Minnesota's Department of Public Safety, told a news conference on Sunday that about 20% of Saturday's arrest records were for people out-of-state, though he did not yet have the total for Saturday night's arrests.
Trump's tweet on Sunday is not the first time the president has described Antifa as a terrorist group. Other conservative politicians, such as Texas Senator Ted Cruz, have made similar statements.
It is also unclear whether the Trump administration is seriously pursuing the designation through formal channels, which would typically require coordination across multiple federal agencies.
'Tragic Murder of Black People': Iran Berates US over Police Killing, Slams Racism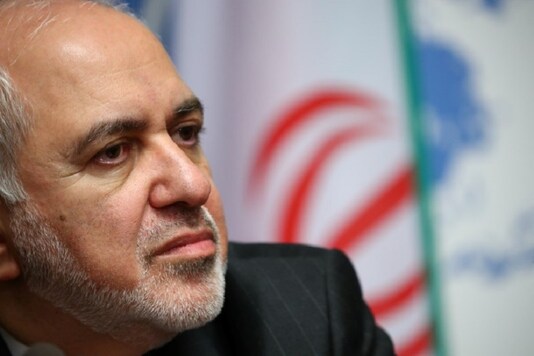 FILE PHOTO: Iran's Foreign Minister Mohammad Javad Zarif attends a news conference, a day ahead of the first meeting of the new Syrian Constitutional Committee at the Untied Nations in Geneva, Switzerland, October 29, 2019. (REUTERS/Denis Balibouse/File photo)
Iran's foreign ministry earlier denounced the killing in Minneapolis, which has sparked protests in several cities, some of which have turned violent.
Last Updated: May 31, 2020, 12:32 PM IST
Dubai: Iran took Washington to task on Saturday over the alleged killing of an unarmed black man by a white police officer that sparked protests in the United States over racial injustice.
"Some don't think #BlackLivesMatter," Iranian Foreign Minister Mohammad Javad Zarif said on Twitter. "To those of us who do: it is long overdue for the entire world to wage war against racism. Time for a #WorldAgainstRacism."
"The US government is squandering its citizens' resources," Zarif said in a tweet echoing a 2018 statement from US Secretary of State Mike Pompeo. The tweet featured an image of Pompeo's statement addressing protests in Iran, but with elements crossed out and replaced.
Iran's foreign ministry earlier denounced the killing in Minneapolis, which has sparked protests in several cities, some of which have turned violent.
A ministry statement condemned what it called "the tragic murder of black people and deadly racial discrimination in the United States".
"The voices of the protesters must be heard," it said.
Separately, Iran's interior minister indicated in an interview that the death toll in November street protests in Iran over fuel price hikes was below 225.
The reported toll has varied between an Amnesty International figure of over 300 and a Reuters account of 1,500 – both dismissed by the authorities.
Interior Minister Abdolreza Rahmani Fazli told state television late on Saturday that 40 to 45 of those killed in the unrest making up 20% of the death toll had not been shot by security forces.
Authorities are likely to announce the official toll in coming days, said Rahmani Fazli, who was blacklisted this month by the United States, which accused him of engaging in human rights abuse.
Hundreds of young and working-class Iranians took to the streets on Nov. 15 to protest against fuel price rises. The protests turned political, with demonstrators burning pictures of senior officials and calling on clerical rulers to step down.