Madhya Pradesh: 10 MLAs Taken To Haryana Hotel; BJP Trying To Destabilise Govt, Alleges Congress
Amid poaching scare among the opposition parties in Madhya Pradesh, Congress has alleged that 10 MLAs of the ruling alliance have been lured to a Haryana hotel. By : ABP News Bureau | 04 Mar 2020 08:00 AM (IST) Image: PTI New Delhi: In a midnight political drama that unfolded in Madhya Pradesh's capital Bhopal,…
Amid poaching scare among the opposition parties in Madhya Pradesh, Congress has alleged that 10 MLAs of the ruling alliance have been lured to a Haryana hotel.
New Delhi: In a midnight political drama that unfolded in Madhya Pradesh's capital Bhopal, BJP allegedly captured 10 MLAs  of Congress and allies, in a bid to destabilize the Kamal Nath government in the state. Congress veteran Digvijay Singh has claimed that six of them have returned, despite BJP's attempts.
BJP leaders are accused of taking the MLAs to a hotel in Haryana as part of a conspiracy to topple the state government.
"When we got to know, Jitu Patwari and Jaivardhan Singh went there. People with whom our contact was established were ready to come back to us. We were able to get in touch with Bisahulal Singh and Ramabai. Ramabai came back, even when BJP tried to stop her," Singh was quoted as saying by news agency ANI.
"BJP's Rampal Singh, Narottam Mishra, Arvind Bhadauria, Sanjay Pathak were going to give them money. Had there been a raid, they would have been caught…We think 10-11 MLAs were there, only four are still with them now, they will also come back to us," he added.
On Tuesday night, Madhya Pradesh Ministers and Congress leaders Jitu Patwari and Jaivardhan Singh were seen coming out of the ITC Resort in Gurugram's Manesar along with suspended BSP MLA Ramabai.
"Things are under control. We will do a press conference tomorrow (Wednesday)," said Patwari.
On Monday, Digvijaya Singh had alleged that BJP leaders Shivraj Singh Chouhan and Narottam Mishra were offering bribes of Rs 25-35 crore to Congress MLAs in order to bring down the Congress government in the state.
Singh on Tuesday again accused BJP of resorting to horse-trading in order to bring down the Kamal Nath government.
He also said that Ramabai was brought to the national capital by a charter flight on Monday by a BJP leader.
Dust, thunderstorm likely in parts of north India on May 29-30; heatwave to continue till May 28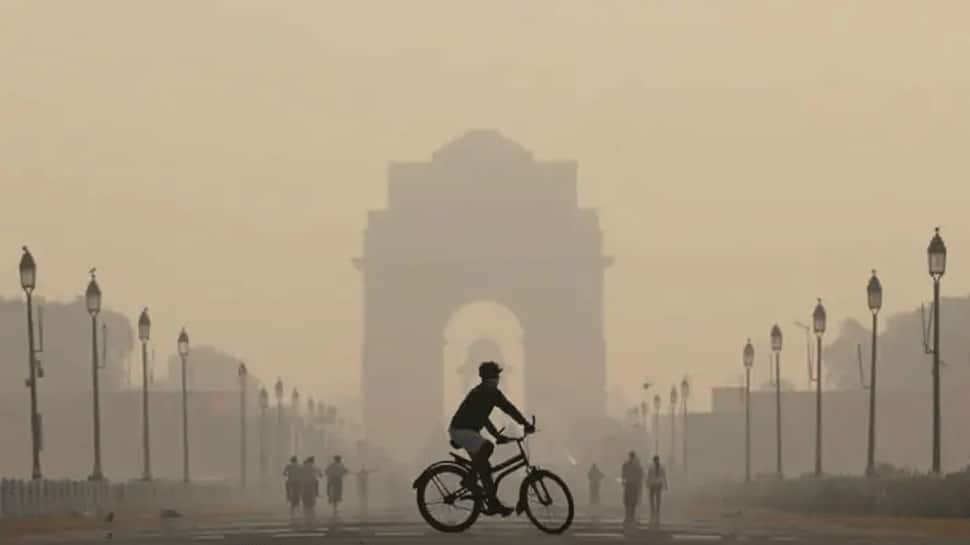 New Delhi: In a significant relief from the scorching heat, the India Meteorological Department on Monday (May 25) predicted dust and thunderstorms over several parts of north India on May 29-30. Kuldeep Srivastava, head of the Regional Meteorological Department of the IMD, told PTI that due to a western disturbance and easterly winds, dust storm and thunderstorm activity are likely over Delhi, Haryana and Uttar Pradesh on May 29-30.
The wind speed is also likely to be around 50-60 kilometres per hour during this period, which will further help in bringing a respite from the intense heat. 
The IMD prediction of thunderstorm comes at a time when several states like Delhi, Rajasthan, Haryana, Punjab and parts of Uttar Pradesh have been experiencing blistering heat for days with temperatures soaring over 45 degrees Celsius. On May 24, the weatherman had issued a Red colour-code alert for north India for May 25-26 when the prevailing heatwave conditions are expected to peak.
A western disturbance is a cyclonic storm that originates in the Mediterranean Sea and travels across Central Asia. When it comes in contact with the Himalayas, it brings rains to the hills and the plains.
Heatwave conditions over some parts and severe heatwave conditions at isolated pockets are very likely over Haryana, Chandigarh, Delhi, Rajasthan, Uttar Pradesh, East Madhya Pradesh and Vidarbha during May 25-27, the IMD said in its daily bulletin.
Heatwave conditions are also likely in isolated pockets over Punjab, Chhattisgarh, interior Odisha, Gujarat, Madhya Maharashtra, Marathawada, interior Andhra Pradesh, Telangana, Bihar and Jharkhand during next 2-3 days.
"Due to prevailing dry north-westerly winds over plains of northwest India, central India and adjoining interior parts of eastern India, present heatwave conditions very likely to continue to prevail over these areas till May 28 with peak intensity on May 25 and 26," the IMD said in its daily bulletin.
Ceasefire in Afghanistan on Eid-ul-Fitr: India hopes `it will be extended further`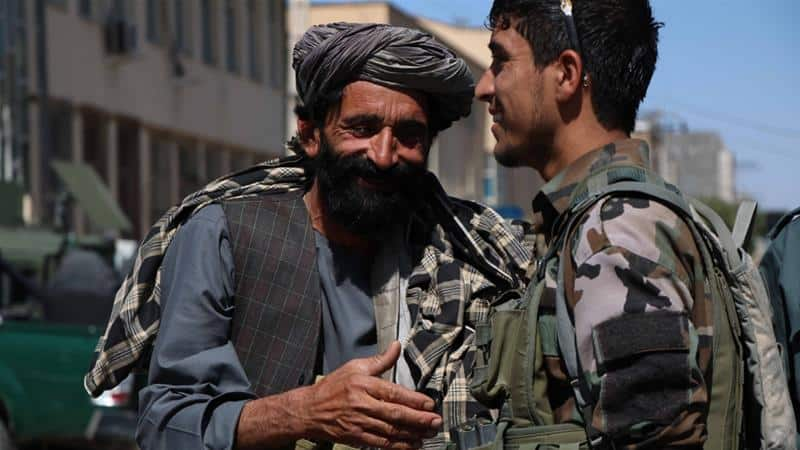 New Delhi: India has welcomed the announcement of a three-day ceasefire in Afghanistan by the Taliban and Afghan President Ashraf Ghani on the occasion of Eid-ul-Fitr, expressing hope that it will be extended further to pave the way for durable peace and stability in the country.
Earlier on Saturday, the Taliban and President Ghani had announced a three-day ceasefire ahead of Eid.
Issuing a statement on Sunday, the Ministry of External Affairs said, "India welcomes the understanding reached for a ceasefire in Afghanistan for three days during the Eid. We hope that this ceasefire would extend further and become permanent to address the dire humanitarian situation resulting from the coronavirus pandemic and pave the way for durable peace and stability for the people of Afghanistan."
"India stands with the people of Afghanistan in their quest for enduring peace, security, sovereignty, and prosperity," the ministry added.
India has been keenly watching the evolving political situation after the US inked a peace deal with the Taliban in February. The deal provided for the withdrawal of American troops from Afghanistan, effectively drawing curtains to Washington's 18-year war in the country.
India has been a key stakeholder in the peace and reconciliation process in Afghanistan. India has been supporting a national peace and reconciliation process which is Afghan-led, Afghan-owned and Afghan controlled.
There have been global concerns over Pakistan's support to the Taliban and other terror groups operating in Afghanistan. The US has lost over 2,400 soldiers in Afghanistan since late 2001.
Large number of flights cancelled nationwide on first day as services resume after 2 months
New Delhi: A Large number of flights were cancelled nationwide on the first day on Monday (May 25) after services resumed post lockdown.
Operations of domestic passenger flights were shut for two months owing to the nationwide lockdown to contain the COVID-19 pandemic.
The first flight took off from Delhi for Pune at 4.45 am while the first flight departed from Mumbai to Patna at 6.45 am.
Except for Andhra Pradesh and West Bengal, domestic flights from all other states have become operational across the country from today.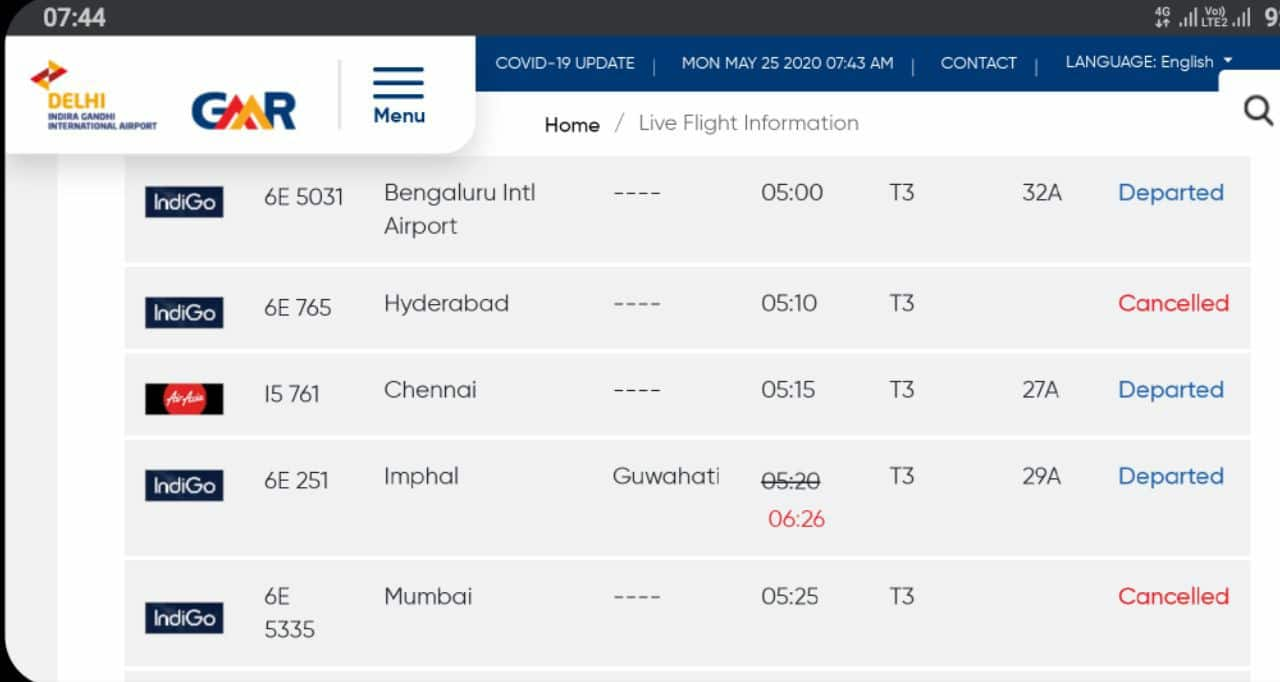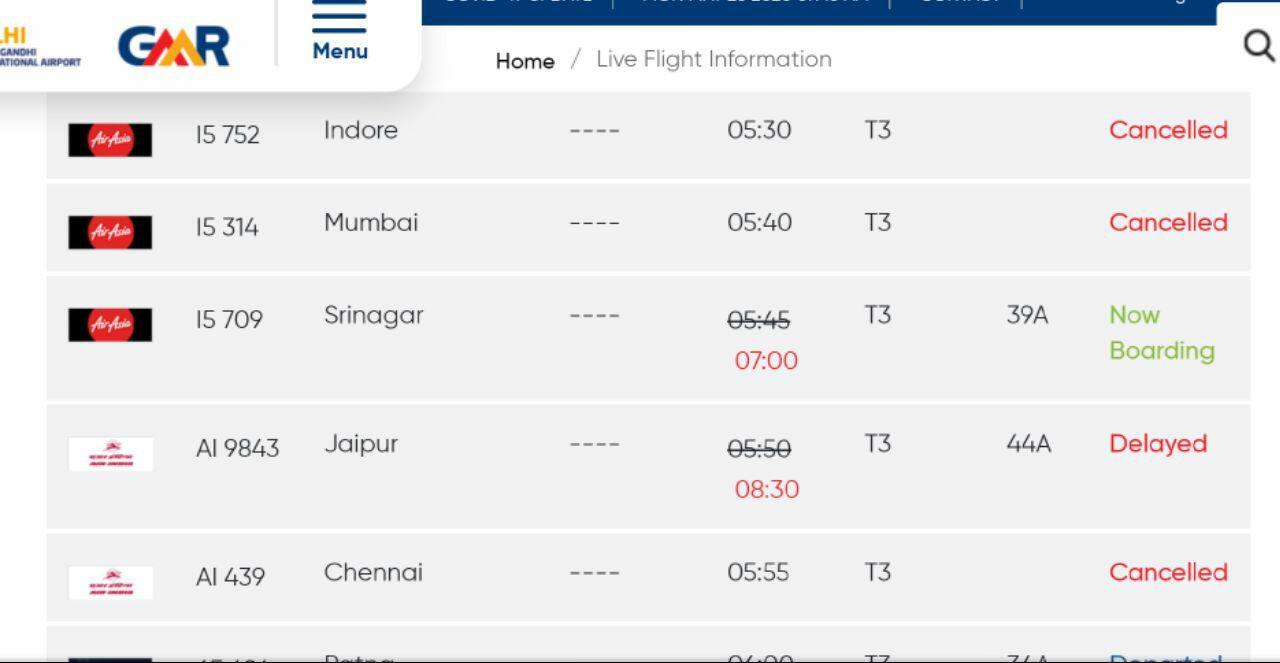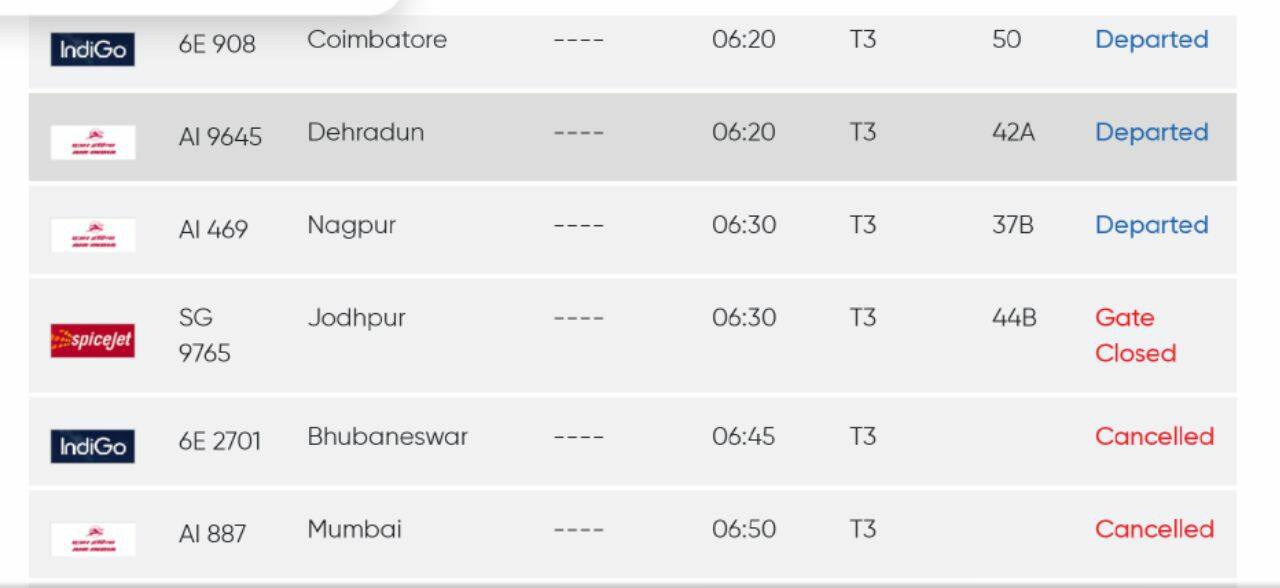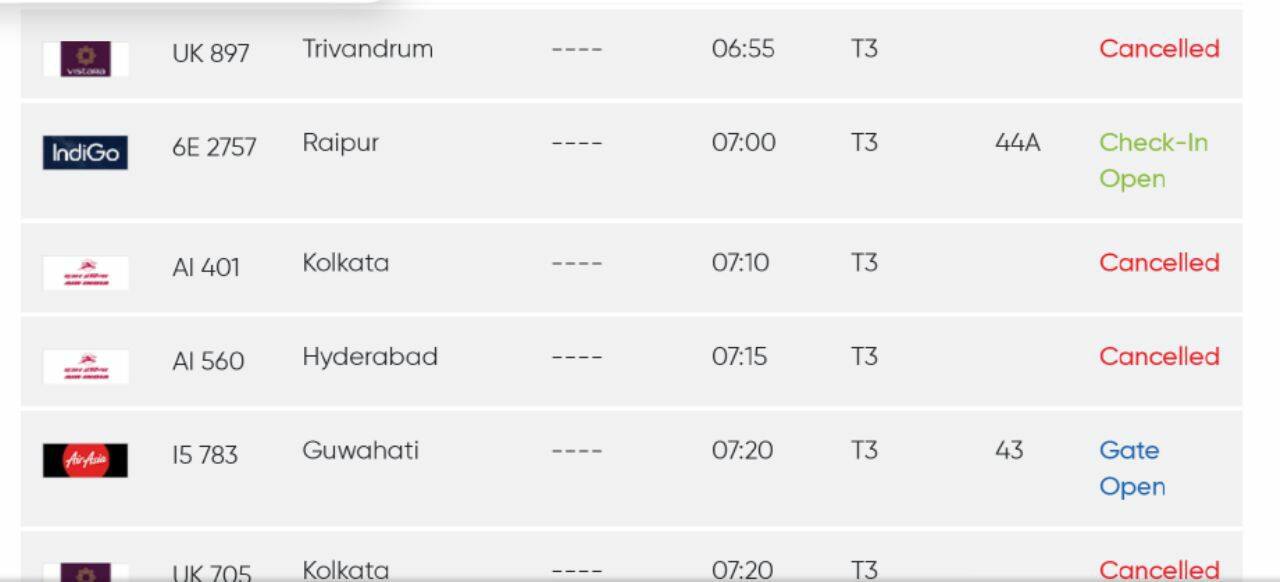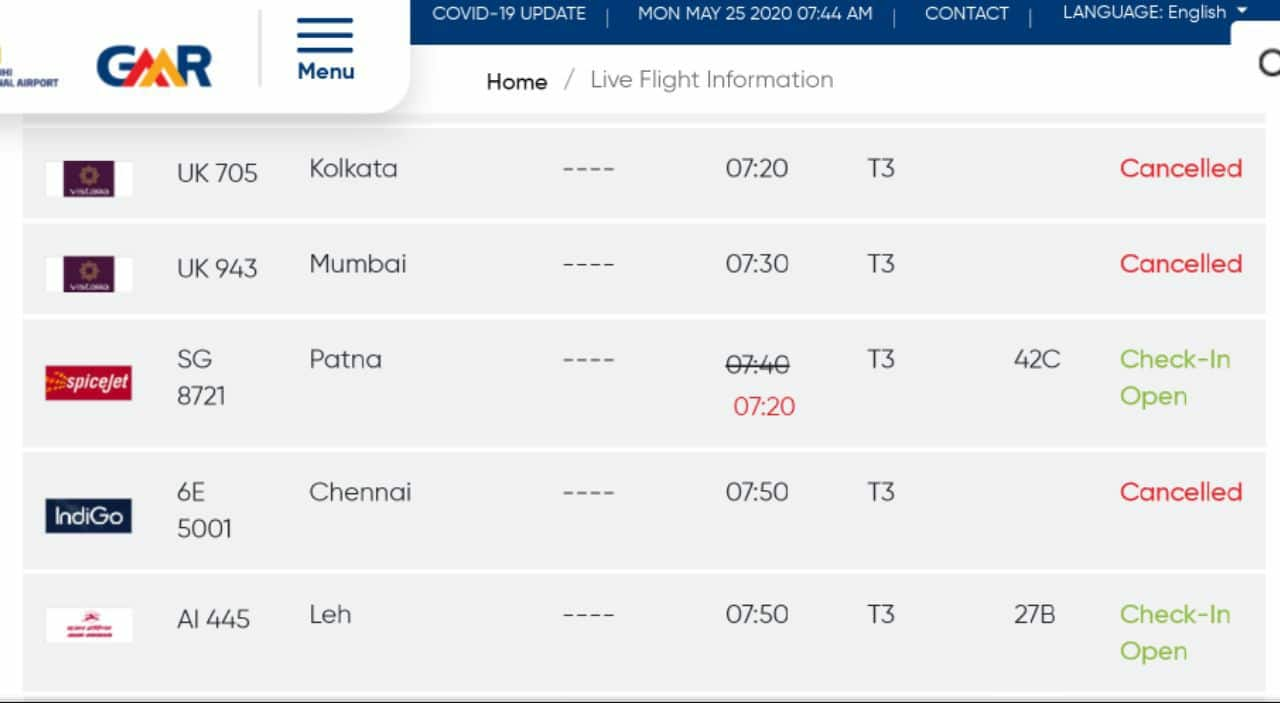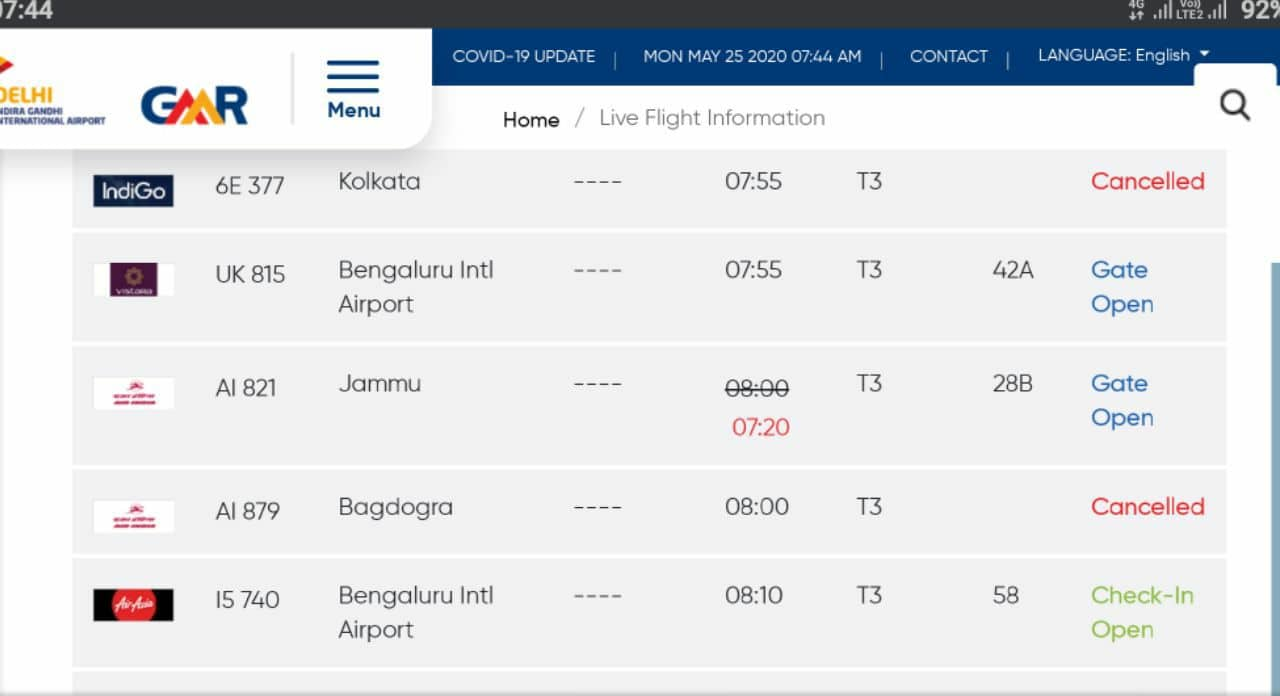 The West Bengal government has been trying to restore its essential infrastructure and services hit by Cyclone Amphan and so flight services in the state have been deferred til May 28.
The government had last week announced the resumption of domestic flight services from May 25. The Directorate General of Civil Aviation (DGCA) had issued specific rules and guidelines for operations of these flights. The guidelines included cap on ticket pricing, wearing of face masks by passengers, no food on board planes.
DGCA also said details of medical conditions by travellers through the Aarogya Setu app or by filling up of a self-declaration form would have to be provided.
Other guidelines include enhanced security and airport employees at check-in counters to assist passengers in maintaining social distancing norms.
The AAI has suggested the blockade of seats between individuals by using proper markers and tapes to ensure social distancing between people sitting at the airport terminals.  The use of alternate check-in counters has been prescribed by the AAI to avoid congestion.
The AAI has asked for the proper provision of Personal Protective Equipment including face masks and sanitizers and has recommended the use of PPE wherever deemed necessary.