Amid rising cases of Coronavirus, people neglect social distancing during Namaz
Noida, Jodhpur and Hyderabad are the three cities from where videos of irresponsible behaviour has come forth. Here the people are offering Namaz while neglecting the fundamental rule of breaking the chain, social distancing.People are sitting together in close proximity and are offering prayers Earlier, Tablighi Jamaat led to disastrous results
Noida, Jodhpur and Hyderabad are the three cities from where videos of irresponsible behaviour has come forth. Here the people are offering Namaz while neglecting the fundamental rule of breaking the chain, social distancing.
People are sitting together in close proximity and are offering prayers 
Earlier, Tablighi Jamaat led to disastrous results
Delhi Police to file chargesheet against 83 foreign visitors who attended Tablighi Jamaat Markaz event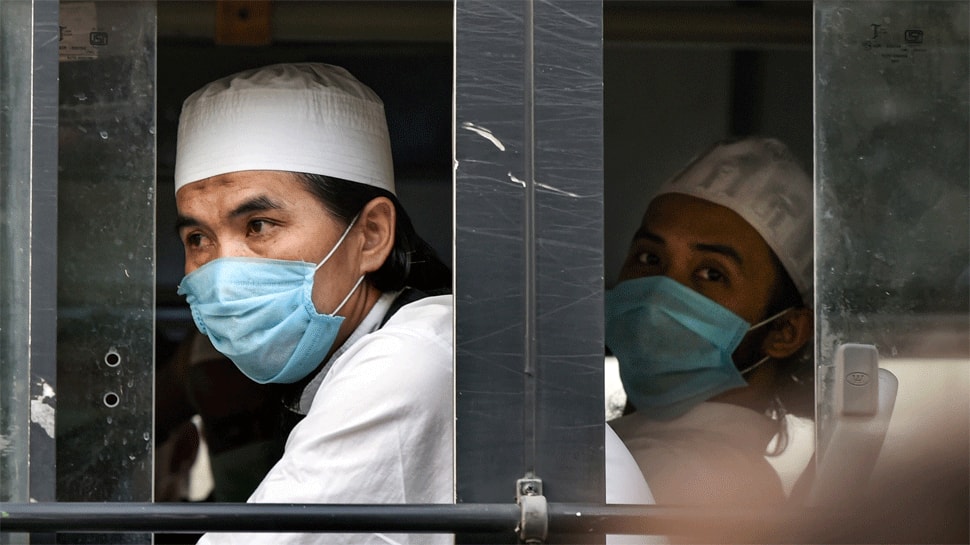 New Delhi: The Delhi Police will on Tuesday (May 26) file chargesheets against Tablighi Jamaat members responsible for congregating in Delhi's Nizamuddin Markaz in March this year in the midst of the coronavirus pandemic, thus overruling the government's ban on any kind of public gathering.
The police will file the chargesheet at Delhi's Saket court, naming at least 83 foreign nationals who attended the Markaz event. Among these, 10 belong to Saudi Arabia and 8 from Brazil. 
Earlier this month, the crime branch of Delhi Police collected several documents related to fundings of Tablighi Jamaat members, besides seizing passports of five close associates of Jamaat chief Maulana Saad. The Delhi Police has completed the interrogation of all foreign Jamaat members. Some of these had reportedly disclosed during the interrogation that they continued to stay at the Markaz even after March 20 at the behest of Maulana Saad.
The team also traced several bank accounts linked to Tablighi Jamaat Markaz and found out that it was receiving funds through several Gulf nations. 
Earlier on May 5, the police had grilled sons of Maulana Saad and sought details of people who had attended the religious congregation at the Markaz, or were part of the managing committee.
On the other hand, on May 15, prominent Muslim organisation Jamiat Ulema-e-Hind had stated that as many as 1,640 foreign Tablighi Jamaat members from 47 countries were in India at the time of Nizamuddin Markaz gathering, of whom only 64 tested positive for COVID-19 and two more died of the virus. Jamiat president Maulana Arshad Madani said the "highlighting" of Tablighi Jamaat cases while talking about the total number of cases in the country had allegedly created an atmosphere of hatred against Muslims.
Maulana Madani said that now when there are more than 78,000 cases of coronavirus, the Tablighi Jamaat figures are not being highlighted.
According to government data, the Jamaat event held at Nizamuddin Markaz in March this year during the pandemic led to a sharp 30  per cent rise in the total COVID-19 cases across the country. The Jamaat attendees, many of who were foreign nationals, had dispersed to different parts of the country, thereby leading to a sharp surge in the number of positive cases. 
Relief from scorching heat coming, IMD predicts dust, thunderstorm on May 29-30
The India Meteorological Department (IMD) predicted on Monday (May 25) that dust and thunderstorms are likely over different parts of north India on May 29-30, bringing relief from the scorching temperature.
The temperature in Delhi, Rajasthan, Haryana, Punjab and some parts of Uttar Pradesh have already crossed 45 degrees Celsius in the last few days.
A red colour-coded alert was issued by IMD on Sunday (May 24) for north India for May 25-26 when the temperature is expected to reach its peak.
According to Kuldeep Srivastava, head of the Regional Meteorological Department of the IMD, Delhi, Haryana and Uttar Pradesh are expected to witness dust storm and thunderstorm activity due to a western disturbance and easterly winds on May 29-30.
The IMD predicted that the wind speed would touch around 50-60 kilometres per hour during this period.
The IMD also said in its daily bulletin that heatwave conditions over some parts and severe heatwave conditions at isolated pockets are very likely over Haryana, Chandigarh, Delhi, Rajasthan, Uttar Pradesh, East Madhya Pradesh and Vidarbha during May 25-27.
Some isolated pockets of Punjab, Chhattisgarh, interior Odisha, Gujarat, Madhya Maharashtra, Marathawada, interior Andhra Pradesh, Telangana, Bihar and Jharkhand are also expected to witness heatwave conditions during next 2-3 days.
"Due to prevailing dry north-westerly winds over plains of northwest India, central India and adjoining interior parts of eastern India, present heatwave conditions very likely to continue to prevail over these areas till May 28 with peak intensity on May 25 and 26," the IMD said in its daily bulletin.
Meanwhile, Delhi saw a peak power demand that clocked over 5268 MW, the season's highest so far, on the night of May 24, 2020. It was also marginally more than the peak power demand (5094 MW) recorded on May 24, 2019.
The surge in power demand was mostly because of the heat wave conditions in north India. Hot and dry weather continued to prevail in the national capital on Monday (May 25) with the maximum temperature hovering close to 45 degrees Celsius in most parts of the city.
Major fire breaks out at slum in Delhi`s Tughlakabad, over 1,000 shanties gutted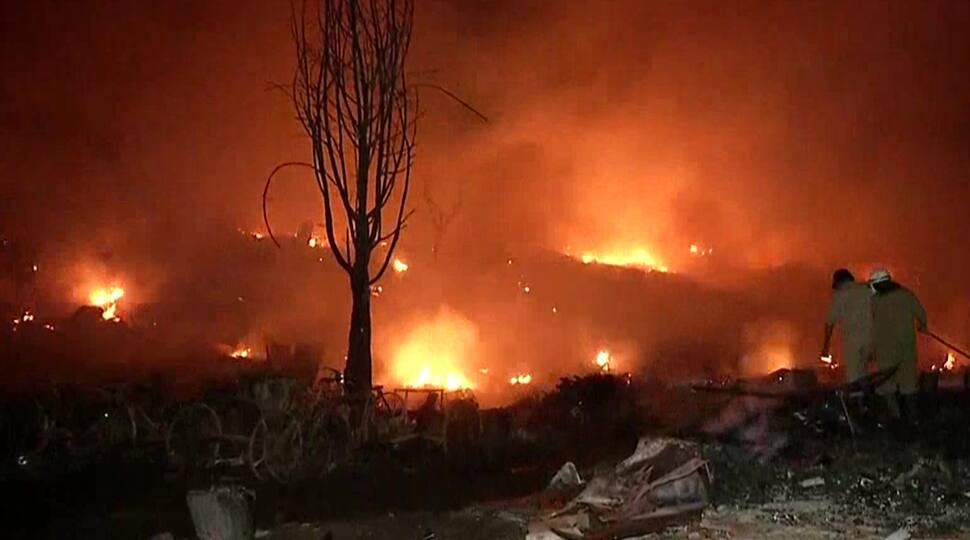 A major fire broke out in the slums of Delhi's Tughlakabad area at around 1 AM on Tuesday (May 26) gutting around 1,000 shanties. At least 30 fire tenders were rushed to the spot to control the raging inferno.
A major fire broke out in the slums of Delhi's Tughlakabad area at around 1 AM on Tuesday (May 26) gutting around 1,000 shanties. At least 30 fire tenders were rushed to the spot to control the raging inferno.
Rajendra Prasad Meena, Deputy Commissioner of Police (DCP), South East, told ANI, "We received information about a fire at around 1 am at slums in Tughlakabad. All police staff reached here immediately. It is being said that around 1,000-1,200 shanties caught fire."
According to a fire official, the department got a call regarding the fire incident at around 12:15 am.
SS Tuli, Deputy Chief Fire Officer of South Delhi Zone, said that around 30 fire tenders were rushed to the area to douse the massive fire. He added that the fire is now under control and the fire department officials are trying to find out the reason behind the fire.
"Around 30 fire tenders are at the spot, the fire has been brought under control. Cause of fire yet to be ascertained. No casualty reported," said Tuli. 
The situation is now fully under control and no casualty has been reported so far