Inside photos of Pooja Bedi's Goa home where she is quarantining with fiance Maneck Contractor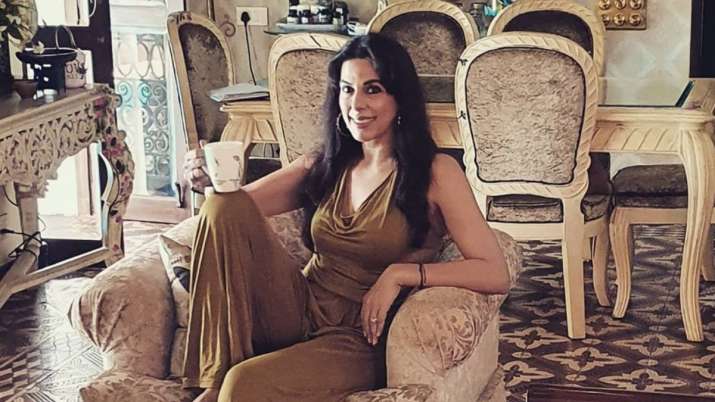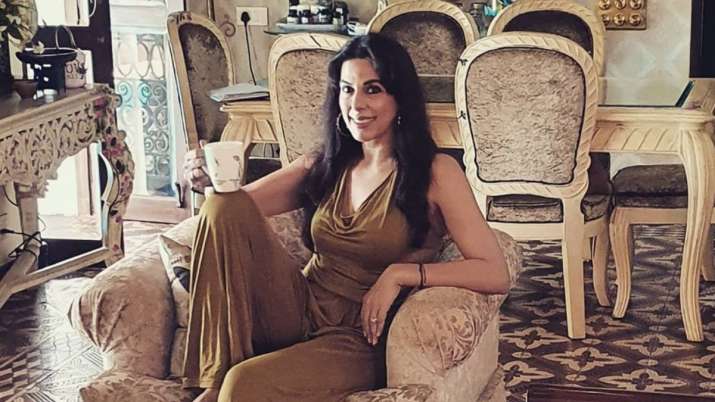 Actress Pooja Bedi has traveled from Mumbai to Goa with fiance Maneck Contractor and is quarantining there. The diva has been sharing many inside photos from her home in appreciation posts to people who supported her in the past few days. The actress faced the heat when she traveled to Goa during the lockdown. While many criticized her for not following rules, others supported her for getting back to her home. Through her recent posts, Pooja gave a sneak peek into her house located in Bardez in North Goa.
The photos show her artistic house with beautiful interiors. In the post, she wrote, "Happy to be back home in goa !! Thank you to all those who have been so supportive & welcoming! Home is where the heart is..Isnt it a tragedy that #Covid_19india has infected more minds than bodies???"
— Pooja Bedi (@poojabeditweets) May 21, 2020
In another post, she gave a view of her sunkissed garden and wrote, "Paleface needs Sunshine!!! So glad to be back home in goa!!" She also shared a video in which she was seen talking about being positive during the tough times. She wrote, "our Positivity is your Immunity! Fearing #coronavirus is our downfall. It's time to change the game & not allow it to rob us of our lives, our jobs, our immunity or our humanity."
Pooja Bedi recently expressed her disappointment with the measures taken by the Goan authority to keep the quarantine facility and shared an inside video on Twitter. She revealed that the Goan quarantine facility wasn't sanitized properly and people world get infected by going there rather than protecting themselves.
Pooja Bedi said, "There's a LOT of uproar about my driving to goa with my fiance who is goan! We went BY THE BOOK. Applied online 2 goa GOVT+ DCP mumbai/stopped at every checkpost/did covid test at GOA hospital & SPENT NIGHT in GOA QUARANTINE. Pl see video as 2 WHY I was upset about facility."
In the video, she gave a tour of the center and said, "It's not that we expect comfort but just hygiene would be really, really appreciated. Forget sanitise, just look at the amount of dirt, fungus, mold… That means it is not sanitised, people are just coming in and out of here. Nothing is actually being cleaned at all. In facilities like these, where so many people are constantly coming, it's more of a risk, I would say, to be in a facility like this than coming from a safe house and going to another safe house. It is much more of a risk getting contaminated in a place like this than a home that we come from."
There's a LOT of uproar about my driving to goa with my fiance who is goan! We went BY THE BOOK. Applied online 2 goa GOVT+ DCP mumbai/stopped at every checkpost/did covid test at GOA hospital & SPENT NIGHT in GOA QUARANTINE. Pl see video as 2 WHY I was upset about facility. 1/2. pic.twitter.com/7P3hX211jz

— Pooja Bedi (@poojabeditweets) May 19, 2020
More Bollywood stories and picture galleries
For all latest news and updates, stay tuned to our Facebook page
Ekta Kapoor, JD Majethia and others welcome Maharashtra govt's move to resume filming projects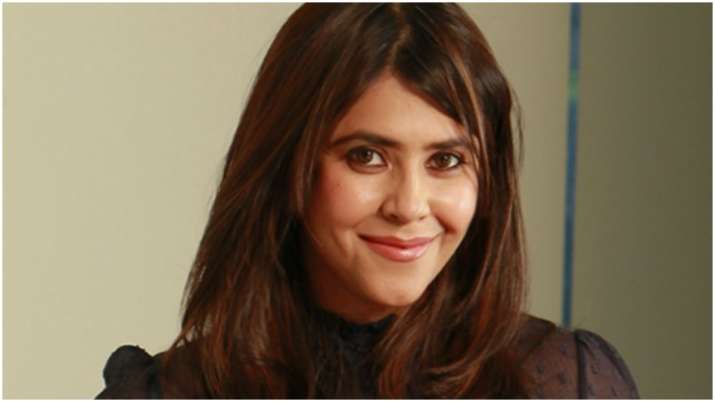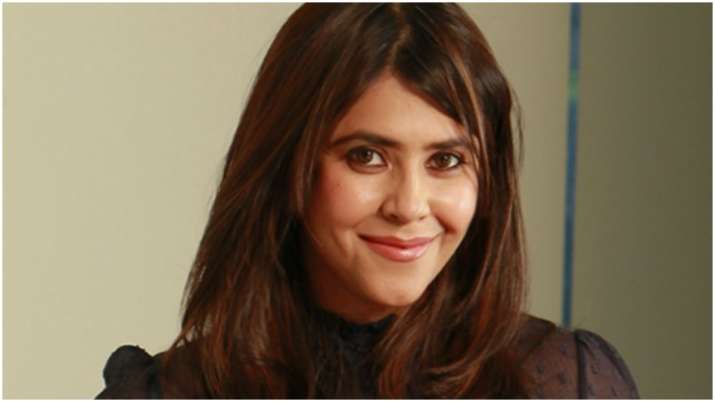 Members of the entertainment industry, including producer Ekta Kapoor, actor-director JD Majethia, filmmaker Ashoke Pandit, on Sunday expressed gratitude towards Maharashtra government for allowing the shooting of films, TV serials and web series with conditions laid down to contain the spread of the coronavirus. Shooting for films and other production activities have remained suspended since mid-March in view of the COVID-19 pandemic.
Issuing a Government Resolution (GR), the Cultural Affairs Ministry said that producers will have to conduct pre-production and post-production works by adhering to the guidelines laid down by the government.
Majethia, chairman, TV wing, Indian Film and Television Producers Council (IFTPC), said the move has come as a relief.
"It feels great. It (the industry) was shut for so long, we thought it'd not open by June 15. This is much faster than what we expected. We thank the CM of Maharashtra for doing this wonderful job. He has pleasantly surprised all of us. This industry is Mumbai's pride. "It will now reach every household and bring smiles, happiness to everyone with fresh content. This was an important decision. t'll bring cheer all across, it's a big relief," Majethia told PTI.
Kapoor also expressed her gratitude to Maharashtra Chief Minister Uddhav Thackeray for allowing the commencement of shoots.
"Would like to express my sincerest gratitude to the honourable @CMOMaharashtra Uddhav Ji, for considering our requests to begin work in a phased out manner by easing restrictions on films and television shooting.
"Special thanks to Adesh Bandekar and Nitin Vaidya for their relentless efforts to help the industry return to work,with new guidelines that still keep an individuals health above all else," she tweeted.
BN Tiwari, president of Federation of Western India Cine Employees (FWICE), said the decision has come at a time when workers were on the verge of losing hope.
"Some had already left for home. This announcement has ignited hope that others will now stay. We are so thankful for this decision. There are several challenges ahead of us. But this was very much needed. This will make the industry come alive," Tiwari told PTI.
Both Majethia and Tiwari said the industry insiders will now schedule meetings with broadcasters, federations and associations to chalk out a plan to restart the shooting.
"The process now will be that whoever wants to shoot should start getting ready to meet the guidelines. It can't be like they shoot today and go back to their place tomorrow because everyday test isn't possible.
"One would have to work carefully now. It's a creative work and naturally you wouldn't want to compromise. But even if one member tests positive for COVID-19, the entire cast and crew will be quarantined. There are several challenges, but the move is welcome," Tiwari said.
Pandit, president of Indian Film and Television Directors' Association (IFTDA), said while he welcomes the decision, the move comes with its own set of challenges.
He said, some of the Government Resolutions, including the mandatory presence of a doctor, nurse and ambulance on every set is not feasible.
"You can do it area wise, which is what we had suggested. On an average, there are 65-70 sets a day in Mumbai. How can you have that many ambulances and doctors there when they are in shortage?" he asked.
The producer said another suggestion from the government that the actors or crew members above the age of 65 shouldn't be allowed on set is unfair.
"There is an age restriction on the set. How can you do that? That way actors like Amitabh Bachchan, Mithun Chakraborty, Anupam Kher, can't work. There are senior technicians of that age.Everyone has the right to work and while we all are concerned about our health, this seems impractical.
"Federation will make a presentation to the government but certain things have to be rethought. The intentions are on point, but we will make an appeal to the government," he told PTI.
According to the Government Resolution, producers will have to apply to managing director of the Maharashtra Film, Theatre, Cultural Development Corporation, the Dadasaheb Phalke Chitranagari in Goregaon, Mumbai, and to district collectors outside Mumbai for resuming shootings.
The order stated that social distancing norms will have to be followed strictly with focus on personal hygiene.
Earlier in the day, the state government extended the lockdown in containment zones till June 30 and announced easing of restrictions and phase-wise resumption of activities in non-containment regions under the "Mission Begin Again.
16-page directive lays down shooting guidelines for film industry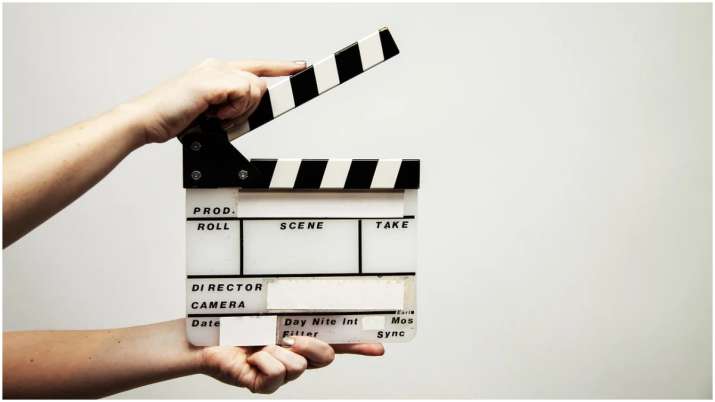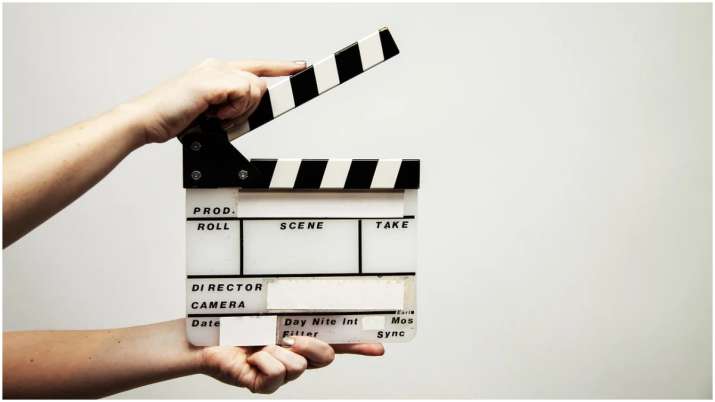 A 16-page official directive comprising guiding principles has been issued for the restart of the media and entertainment industry. The guidelines pertain to managing COVID-19 risks on sets and in edit facilities, and the utilisation of offices, tents, and trailers, as well as domestic travel to location of cast and crew.
Shooting has to be done in a completely locked down environment and adhering to government rules. The directive talks of the optimum crew that can be allowed on set, and also lays down medical and administrative decorum to be followed on set. It also lays down guidelines on handling of shooting equipment by crew.
The artiste and staff management guidelines stress upon the use of masks, gloves being optional, and the overall use of video and audio conferencing wherever possible. The directive also lays down protocols for location management, staffing, as well as norms to be followed by individual departments such as art, electric, wardrobe, camera, sound and catering departments.
In a nutshell, these are the guiding principles that will matter when filming activity resumes:
It is important to spread awareness of precautions and symptoms of the disease, besides the necessity of regular temperature and oxygen level checks. The notice stresses on handwashing, sanitation and respiratory hygiene.
It has been suggested that larger tents be used, and that there should not more than five people on a trailer. Proper ventilation at indoor locations is a must. Deliveries should be handled outside office space, and disposable plates and cups should be used. Sanitising wipes at printer stations, and the continuous disinfecting of light switches, remote controls etc has also been stressed upon.
It has been suggested that crew strength on any set has to be minimized to 33 per cent of what it used to be pre-COVID, and that all member should carry essential identification. Aarogya Setu app should be installed on compatible devices and floor markings will be essential for social distancing. The presence of ambulance, trained housekeeping staff and medical personnel on set has been stressed upon. Temperature and health check of all entering a set is a must.
There has to be special facility to deal with pregnant cast and crew members, as well as those above 65. No audience will be allowed on sets of fiction or non-fiction shoot, and all members on set have to wear disinfect gear during breaks.
The directive encourages Facetime, Zoom and Skype for remote casting sessions, and advises on the use of mobile phones to check in before entering casting areas. Social distancing during casting session has been stressed upon as well as, wherever possible, the use of face mask during auditions.
Actors can be encouraged to bring some wardrobe from home.
Shooting facilities have to be manned 24/7, and security guards have to be on duty to open and close doors, so that no pone entering or leaving a shooting facility needs to tough doors or door handles.
Lunch breaks have to be staggered. No elaborate sets such as marriage, markets or fight sequences are to be filmed till the COVID threat subsides.
Guidelines suggest the use of disposable palettes for make-up and the need to throw away paper scripts after use, and the need to disinfect hairbrushes and combs.
Temporary clear barriers between actors and alternate shots setups have been advised. In no case shall children below 10 years be allowed on set, and only one acquaintance can accompany a child on the set.
Proper and regular fumigation of shoot location has been insisted upon.
For non-fiction shows, camera placement and seating arrangements have to be done keeping in mind the norms of social distancing.
The directive also suggests that production facilitates accommodation of crew while shoot is on, to avoid threat of spread while travelling to and from work, and also suggests dedicated vehicles for those who do not live nearby studios.
Access between floors have to be controlled and divide studio space into sections for various production teams in the unit, to maintain isolation.
The directive also discourages use of others' phones, and encourages serving box meals, and encourages crew to bring their own food.
That apart, every member of a unit has to undergo a questionnaire, pertaining to information on basics such as if any member of their family has been abroad recently, has local health authority advised quarantine, has anybody in the family had COVID, if the unit member has fever, cough or cold etc.
For television shoots, broadcasters have to obtain permission from local collector where shoot has to take place. For film, due permissions have to obtained by the producer.
From getting engaged to announcing pregnancy: Natasa Stankovic and Hardik Pandya's love story (In Pics)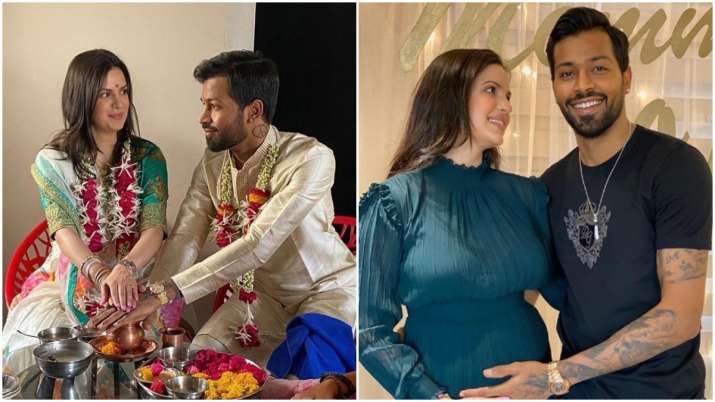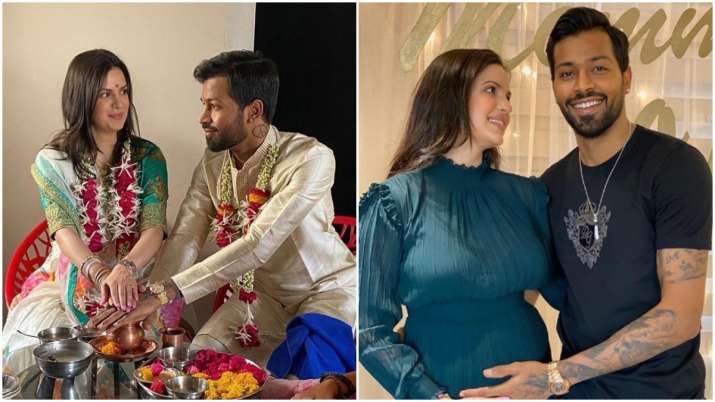 Bigg Boss 8 fame model and actress Natasa Stankovic announced her pregnancy with finace and Indian cricketer Hardik Pandya on Sunday taking everyone by pleasent surprise. The Serbian actress, who has also appeared in Nach Baliye, shared a series of pictures with beau Hardik Pandya on social media and wrote, "Hardik and I have shared a memorable journey together so far and now, it's only going to get better Together, we are excited to welcome a new life into our lives very soon. We're super excited for this new step of our life together and humbly ask your blessings and well wishes". In one of the pictures, Natasa can be seen flaunting her baby bump in a blue atiire as she looked loving at her beau Hardik Pandya. 
Just like their engagement news,the announcement of Natasa Stankovic and Hardik Pandya embracing parenthood soon has taken the internet by stiorm. So how did the love story start? Here's a look at their adorable moments spent together.
The fairy-tale engagement
The couple got engaged on January 1, 2020 and, it was nothing less than a fairy-tale. Hardik Panday got on his knees as he proposed to his ladylove Natasa Stankovi with a gorgeous ring on a yacht  decorated with balloons and flowers as a live orchestra played in the background. And, it was "Forever yes", from her.
Ahead of announcing the engagement, Hardik Pandya shared picture with Natasa as they attended a party in Dubai.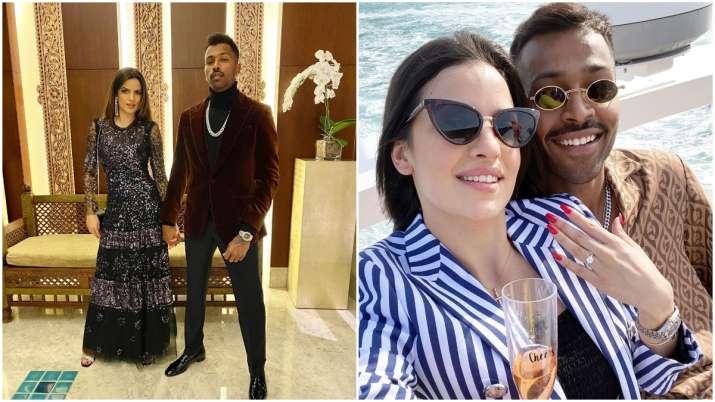 The chilling out moment
Natasa Stankovic and Hardik Pandya made huge headlines when pictures of the couple from one of their beach holidays made way on the internet.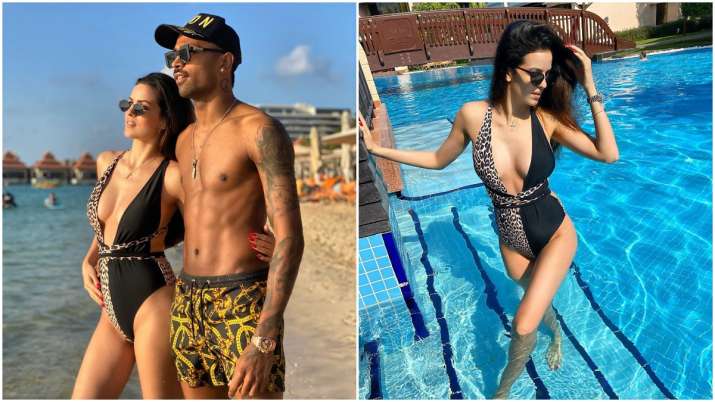 Of love-filled selfies and family meets
Earlier Natasa shared a loving selfie with Hardik in Instagram stories with her head on his chest and wrote, "Trust in the Lord with all your heart and do not lean on your understand."
Hardik Pandya's father Himanshu Pandya spoke about Natasa Stankovic in an earlier interview with Bombay Times.and said, ""Natasa is a very nice girl, and we have met her in Mumbai on a number of occasions. We knew that they were going on a vacation to Dubai, but had no clue that they were going to get engaged. This took us by surprise. We came to know about it after they got engaged".
Meanwhile, Hardik Pandya jwas spotted with Natasa Stankovic and her family for dinner.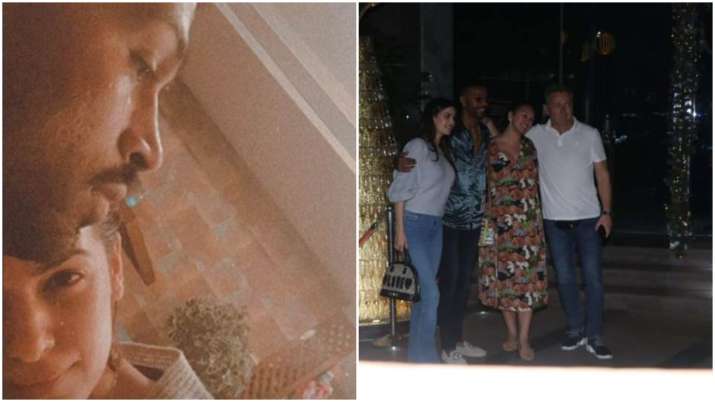 Holi celebration together
Natasa Stankovic joined the Pandyas for Holi celebration and shared some lovely pictures from the occasion.